Welcome to the NEW look
Midland Counties Athletic Association website
everything you need to know about Midland Athletics.
Latest news and information items follow...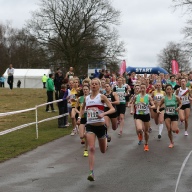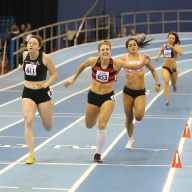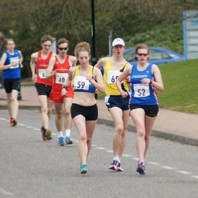 Midland Counties Area Road Relays
19th September Sutton Park
Notice of the Athletics Direct Midlands Track & Field League AGM
Sunday 22nd November 2015
Alexander Stadium 1.30pm
Midland Cross Country Relay Championships
Sponsored by Brooks running
Saturday 17th October
Bramshall Road Park, Uttoxeter
A new and exciting venue for this increasingly popular event
A 5km two lap course featuring a mix of terrain with two water crossings each lap
Details and entry forms HERE
Alongside this event we will be holding a single lap race for young athletes Details HERE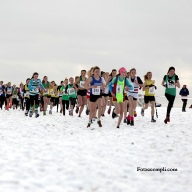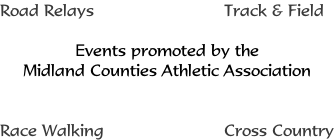 The end of an Era
Today saw Lyn Orbell taking her well-earned retirement from Midland Counties Athletic Association. Lyn has been at the heart of the organisation and day to day working of the Association for more years than she will allow me to say and for the last 2 years helping me to get used to the 'way things are' in the Office and also guiding both Chris Belcher and I while we have tried to put together the competition timetables for the various Midland meetings. Every time I have been in the Office or any arena where Lyn is present she has always been the person to go to if anyone - coaches, athletes, team managers and many others - were not sure of something. Everyone knows and respects Lyn for her fantastic knowledge of Athletics at all levels and she will be greatly missed in the Midland Counties Office and in the organisation of our events. Fortunately Lyn will still be involved in the sport, Coaching, giving advice, helping everyone whenever she can.
Thanks for Everything Lyn,
Photo's OF Lyn's Retirement Party
Preliminary Notice
MIDLAND COUNTIES ATHLETIC ASSOCIATION
26th ANNUAL GENERAL MEETING
SUNDAY 22nd NOVEMBER 2015