Welcome to the NEW look
Midland Counties Athletic Association website
everything you need to know about Midland Athletics.
Latest news and information items follow...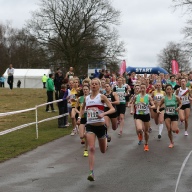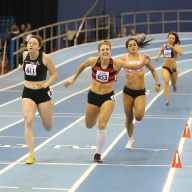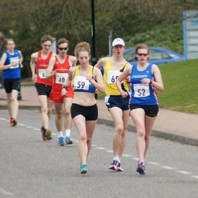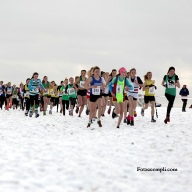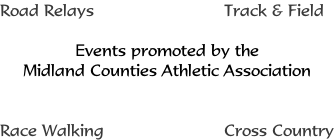 2016 Indoor Track & Field Competition Prospectus
Three Open Meetings at the High performance Centre, Alexander Stadium
Further details on included events & how to enter CLICK HERE
Events below for the 3rd Open meetings (3rd open events are subject to change)
3RD OPEN 19/20 MARCH
Saturday 19 March 2016 MEN & WOMEN
Senior/U20/U17/U15 High Jump, Long Jump, Triple Jump, Pole Vault
Senior/U20/U17/U15 Hammer, Javelin, Shot & Discus Number of throws dependent on entries
HJ Pool A SH 1.25m, Pool B SH 1.50m, Pool C SH 1.75m PV Pool A SH 2.30m, Pool B SH 3.20m
TJ Board A 7 & 9m, Board B 11m, Board C 13m
Sunday 20 March 2016 MEN & WOMEN
Senior/U20/U17/U15/U13 Early Session 60m, 60m Hurdles
Late session 100m - 70mH - 75mH - 80mH - 100mH - 110mH
A single payment entitles the entrant to 1 race in the early session and 1 race in the late session
Please ensure that you enter the relevant pool/board for your event.
Number of trials in horizontal jumps and throws will be dependent on size of entry.
Brooks Midlands XC Championships
RESULTS of the 2016 XC Championships
WHAT AN AMAZING FEAT!
All Cross Country runners at Saturday's Midland Championships I am sure would like to join me in expressing our most sincere thanks to the miracle workers who in less than a week ensured this year's Championships went ahead. It was only last Monday that the Office heard the news that Stafford Common was awash with water & therefore not in a fit state to hold the Championships. Quick action behind the scenes by various unsung heroes tried various places to try to ensure the Championships went ahead. Eventually, it was decided that the course at Prestwold Hall would be the answer to everyone's prayers. Our grateful thanks goes to John Skevington of Leicestershire Running & Athletics Network who was the man that came up trumps! No one on Saturday would have known that the course was devised only this last week. One felt for the Staffordshire organisers – Pete Burns & Graham Allen who had done all the donkey work for Stafford Common. They were however able to transfer the tents firm & the First Aiders to the new venue which was pleasing, but another firm had to be found for the toilets (a super supply including disabled which was greatly appreciated by all at the event!). Obviously, John needed to find helpers to mark the course & to marshal it.
The Office in the meantime were having to alter the plans for the programme & then they had further problems with the Email System going down! Communication was a high priority to athletes/parents/officials/coaches but by sheer hard work this was all achieved by the end of the week.
Well Done! Is totally inadequate for this major miracle. All concerned deserve a medal – it was a truly amazing feat!!
A HUGE THANK YOU TO ALL CONCERNED!
Carolyn Franks
Midland Counties Cross Country Association President 2015/16
Results
Once again we have a bereavement in our throwing family.
Peter Weir, Brother of fellow throwers Robert and Ray, has passed away at the too early age of 52.
Peter competed for Birchfield Harriers, reaching 16.53m in the Shot and 62.60m in the Hammer in the mid 1980's.
A quiet thoughtful man, whose deeds spoke for him.
Malcolm Fenton
National Coach Mentor Lead – Throws
Coaching & Athlete Development Team